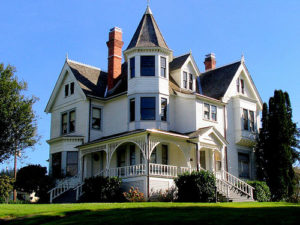 The two basic types of property are real property and personal property . Real property is basically land and improvements to the land. Property that is not real property is personal property ( also called chattel ). Personal property usually consists of items having limited life that are easily movable from one place to another . Just as the term realty is used to denote real property , the term personalty is used to indicate personal property . It is important to distinguish between real property and personal property in a real estate transaction. All personal property included in the sale should be identified in the contract for sale , or the seller is entitled to remove the property. 
Real property can become personal property by the act of severance. For example , timber is real property , but when cut, it becomes personal property by the act of severance. Vice versa, personal property can become real property by attachment.
Fixtures 
A fixture is an item that was once personal property but has been permanently attached to or made party of real estate and is now legally considered to be real property .  A bathtub , for example, was personal property in its container in a warehouse, but once permanently attached in a home, it became real property. Some items , such as drapes , ceiling fans , and chandeliers, are more difficult to classify. In those cases where contracting parties have not had the foresight to include such items in a real estate sale contract, the courts generally use the following set of legal tests to decide weather an item is a fixture.
Intent of the parties
As in most points of law, intent of the party placing an article on or in real property is of primary importance. Statements made by an owner to witness may indicate the intent to make an item a fixture. For example , including a washer and dryer in a sale contract as part of the real property would remove any doubt about the owner's intention. If a dispute arises between a buyer and a seller or an owner and tenant , the courts may be required to determine the original intent of the parties. 
Relationship of the parties 
In this test the courts seek to determine the exact nature if the relationship of the parties. It is buyer and sellers or landlord and tenant ? Ordinarily, residential tenants are required to leave any item they have attached to the landlord's real property. However , if building is leased as a retail store and display racks are attached to the walls and counters are attached to the floor, the courts generally rule that such items are trade fixtures and may be removed. A trade fixture is an article that is attached by a commercial tenant as a necessary part of the tenant's trade of business and is personal property. 
Method or Degree of Attachment 
The manner in which an article is attached to real property generally indicates weather it is a fixture or personal property. Normally, if removing the item would result in damage to real property , the article is classified as a fixture. A set of built-in storage cabinets in the utility room would normally be considered a fixture if removing it would damage the wall.
Adaptation of the Item 
This test seeks to determine whether an item was designed for , or necessary to, the normal use of a specific property. If the item is adapted or custom built to fit the property, it will likely be considered a fixture even though it is movable. for example , hurricane shutters are considered fixtures because they are custom-made to fit specific windows in a structure even though they are not on the windows at all times. The shutters are placed on the windows when a storm is approaching and removed when the danger has passed. Another example of a fixture would be draperies that have been custom-made using the same decorative pattern as the wallpaper. 
Legal test should not be necessary if all personal property to be sold with the real estate is listed in the sale contract. To avoid conflicts and misunderstandings between buyers and sellers , listing and sale contracts should clearly specify which items are considered party of the real property in a transaction and list any personal property that is to be included in the sale. 
COME JOIN OUR SCHOOL !!!
You will be joining a fun yet serious class where all your questions will be answered individually . We are like a family and we like to make sure we give our students all the attention necessary for them to succeed because through you we get to be successful as a school .
Our classes are small enough so you can get one on one time with your teacher as well as getting to know your classmates and schedule group studies with people that want to make a career in real estate or have a pure curiosity for personal knowledge . Whatever your motivation , you are welcome in our class and we are more then willing to share our knowledge and experience with you .
Our office staff can be reached at 954-342-9000 with any questions you may have .
We hope to hear from you soon ! 
Also you can stop by to SEE us at 6600 Pembroke Road In Pembroke Pines , Florida 33023