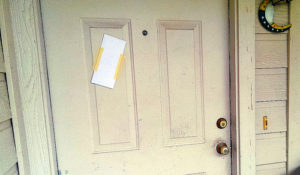 It is important to know how the eviction process goes , because you never know when a friend or a family member might need to know the law on eviction . The person who knows the law will always be in advantage . knowing what you can or can't do as well as what others can legally do . Being evicted can be a very scary process and some landlords will use the lack of knowledge a tenant has to intimidate the residents into leaving before their time or into simply leaving for no good reason.
Eviction Requirements
From time to time , a landlord has to evict tenants from rented dwelling units. In any eviction process, the landlord must adhere to the following procedure :
The landlord serves the tenant a written notice allowing three business days (excluding weekends and legal holidays) for the tenant to pay the rent or to vacate the premises.
If the tenant does not pay the rent or moves, the landlord may begin legal action to evict by filing a complaint for eviction in county court.
If the court agrees with the landlord, the tenant is notified in writing. The tenant has five business days (excluding weekends and legal holidays) to respond in writing to the court.
If the tenant does not respond or if a judgement is entered against the tenant, the clerk of the county court issues a writ of possession to the sheriff.
The sheriff notifies the tenant that eviction will take place after 24-hour notice has been posted.
This whole process is not short but a landlord who knows what he is doing he will do it pretty fast . Best is to avoid such situations but if you do find yourself into a disagreement wouldn't you wish you had the upper hand for knowing the law ?
Come join our school now 
Our next classes start November 2 2015 and seats are going fast . Call us at 954-342-9000 to reserve your seat asap 
or stop by at 6600 Pembroke Rd in Pembroke Pines , Florida 33023 
WE WILL BE WAITING FOR YOU !!!