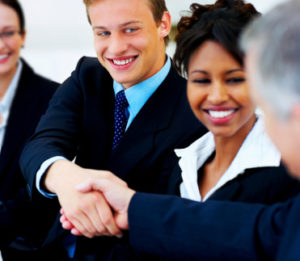 The sales associate applicant must
 Be 18 years of age or older ;
 Have a high school diploma or its equivalent ;
 Possess a Social Security number ;
 Be honest, truthful, trustworthy, of good character, and have a reputation for fair dealing ; and
 Be competent and qualified to make real estate transactions and conduct negotiations with safety to investors and others .
When completing an application for licensure, the applicant must disclose:
 Regardless of adjudication, whether the applicant has ever been convicted or found guilty of a crime , has ever entered a plea of guilty or nolo contendere (no contest) to a crime , or is currently under criminal investigation;
 Whether the applicant has ever done business under any name or alias other than the name signed on the application (this includes maiden names) ;
 Whether in Florida or in any other state or jurisdiction , the applicant has disciplinary action against a license (registration or permit) to practice a regulated profession (disciplinary action includes revocation, annulment , suspension , relinquishment, surrender, or a pending investigation against a professional license) ; and
 Whether in Florida or in any other state or jurisdiction the applicant has had an application for a real estate license denied or there is a pending proceeding to deny an application .
License Application
A social security number is required to apply for a real estate license. In the Full Legal Name section of the license application , applicants must enter their name as it appears on their Social Security card. Florida Law requires that an applicant's Social Security number be disclosed on all professional license applications. The Social Security number is used to determine whether applicants are in compliance with child support obligations .
A real estate license application is valid for two years from the date the complete application is received by the DBPR. The application expires two years after it is received by the DBPR .
An applicant who has been disbarred or is guilty of the offenses listed above is not considered qualified for a real estate license unless passage of time , good conduct and reputation, or other sufficient reasons cause the Commission to believe granting the license will not endanger the interests and welfare of the general public . Applicants who acted as , attempted to act as , or held themselves out as a real estate broker or sales associate during the year prior to filing an application or until a valid license was issued , may have their license application denied. The denial may occur regardless of whether compensation was an issue .
Education requirements
Sales associate candidates must successfully complete Course 1 or an equivalent FREC approved prelicense course. The course is based on understanding and applying the fundamentals of real estate principles and practices , real estate law , real estate license law, and real estate mathematics .
Course 1 consists of 60 hours of instruction plus 3 hours for and end-of-course examination. The end-of-course examination consists of 100 questions worth 1 point each and is normally organized with 45 questions on principles and practices, 45 questions on real estate law , and 10 math questions. A passing score of 70 is required on the end-of-course exam .
Regulations pertaining to prelicense courses:
 A student may not miss more then 8 hours of instruction. An instructional hour is considered to be 50 minutes .
 A student may attend makeup classes to take the end-of-course exam or a makeup exam if absences were due to student or family illness , if done within 30 days of the regularly schedule exam time, or later with Commission approval. Makeup classes must consist of the original course material that the student missed .
 The school or institution provides each student passinh the end-of-course exam with a FREC-prescribed grade report of successful completion of the course . The school muct submit roster notifying the Commission of the name of each student who has satisfactorily completed the education requirements .
 The student must pass the school –administered end-of-course exam with a grade of 70 or higher .
 A student failing the end of course exam must wait at least 30 days from the date of the original examination to retest. Within one year of the original examination, a student may retest a maximum of one time . Otherwise , a student failing the end-of-course exam must repeat the course prior to being eligible to retake the end-of-course examination. Schools must administer a different form of end-of-course exam to a student who is retaking the exam or repeating the course .
 Students may choose to complete a distance-learning course and satisfactorily complete a timed, distance learning course examination .
 The prelicense course may be taken by correspondence or other suitable means by anyone who, because of individual physical hardship, cannot attend the course where it is regularly conducted or who does not have access to distance learning courses .
 If an applicant does not pass the state license exam within two years after the course completion date , the course completion expires and the applicant must again complete the prelicense education course . The completion date is the date the student passed the prelicense end-of-course exam.