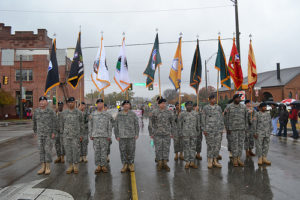 WASHINGTON – Feb. 11, 2016 – The National Association of Realtors® (NAR) strongly supports the Veterans Affairs Department's Home Loan Guaranty Program and Specially Adapted Housing Grants, and looks forward to working with the VA on further initiatives to make sure homeownership remains in reach for America's veterans.
NAR 2016 Vice President and 2014 Florida Realtors President Sherri Meadows delivered that message Wednesday before the U.S. House Veterans' Affairs Subcommittee on Economic Opportunity.
"Veterans deserve the very best we have to offer as thanks for their service and sacrifice," said Meadows. "NAR applauds the good work that the VA is doing to assist veterans who want to purchase a home, and we're excited to work with them and improve those programs. There's a real opportunity ahead to strengthen existing benefits and help more veterans achieve the dream of homeownership."
Meadows told the committee that NAR supports an increase in VA loan limits under the VA's Home Loan Guaranty Program. Increased limits would recognize veterans' home-purchase challenges in certain high-cost areas and give them greater flexibility in purchasing decisions.
In addition, Meadows advocated for a change to current rules on fees veterans can be charged as part of a home purchase. NAR strongly supports VA's efforts to shield veterans from excessive fees, but Meadows noted these rules can have unintended consequences. To put veterans on an uneven playing field, Meadows said that veterans should be able to negotiate certain fees, just as non-VA borrowers do, so they can compete fairly with other buyers.
Meadows reiterated NAR's support for a Veterans Renovation Pilot Program that would work similar to the Federal Housing Administration's (FHA) 203(k) program that rolls the cost of home repairs into a mortgage. The VA already has the authority to create such a program. Creating it would allow veterans to purchase a home that needs renovations and still enjoy the benefits of the VA guaranty.
Meadows also spoke in favor of fully funding and staffing the Specially Adapted Housing Program, which offers grants allowing disabled veterans to find or remodel housing to accommodate special needs.
"Realtors are proud of the important role they play helping veterans who are ready to become homeowners," said Meadows. "I look forward to seeing those efforts go further so we can improve the critical programs available and support even more veterans down the road."
Reprinted with permission Florida Realtors.  All rights reserved.
© 2016 Florida Realtors®