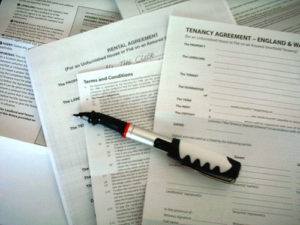 Two instruments are involved in a mortgage loan: (1) the promissory note, which is the actual promise to repay, and (2) the mortgage, which creates the lien interest.
Promissory Note
A promissory note (or mortgage note, or sometimes a bond) must accompany all mortgages in Florida. The note is the legal instrument that represents the evidence of a debt. A note is a promise to repay that makes the borrower personally liable for the obligation. It represents the borrower's promise to repay the lender according to the agreed-upon terms of the loan.
The note is usually a separate legal instrument and must be signed by the borrower. The note states the amount of indebtedness, interest rate, repayment method, and term or time period of repay. The mortgage note lists the penalties that will be assessed if the borrower does not make the monthly mortgage payments. It also warns the borrower that the lender can call the loan (demand repayment of the entire loan before the end of the term) if the borrower violates the terms of the mortgage. The note is usually not recorded.
Mortgage Hypothecation Promissory Note
A mortgage is an instrument that pledges the property as security (collateral) for a debt. It is the legal document that represents the lien on the real estate that secures the debt. For the lender, the property becomes security, legally sufficient to ensure recovery of the loan.
Hypothecation
Hypothecation refers to the pledging of the property as security for payment of a loan without surrendering possession of the property. Mortgages identify the property being used to secure a loan and contain the borrower's promises to fulfill certain other obligations to the lender. A mortgage instrument must be in writing to be enforceable. The mortgage is recorded to establish constructive notice of the lien and to establish priority ahead of subsequent liens.